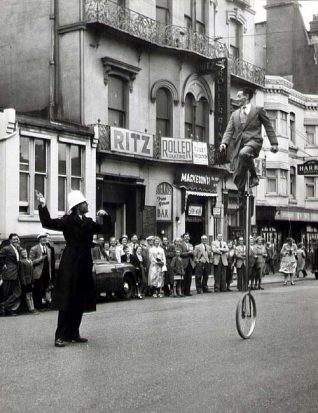 Photo from a private collection
This photograph shows the famous Australian trick cyclist Banner Forbut performing outside the Ritz Roller Rink in West Street, Brighton. Banner Forbut was appearing as a speciality act at the Sports Stadium ice rink in Tom Arnold's 1953 "Ice Circus". The policeman directing him is wearing the traditional white helmet that the Brighton police force wore every summer.
Built in 1867
The Ritz Roller Rink in the background started life as the West Street Concert Hall and was built in 1867 for a Mr William Child, with a white stucco facade four-stories high and designed in the Italianate style, similar to the Grand and Norfolk Hotels nearby.
In 1872 the building was hired by the British Geographical section, at which the explorer and missionary H. M. Stanley, who found Dr Livingstone in Africa, read a paper on his discoveries in Northern Tanganyika.
Fire in 1882
A disastrous fire seriously damaged the hall in 1882. It was later to reopen as an ice skating rink in 1892. Seventeen years later the hall took the legendary name of "Sherry's", beginning its long career as a Brighton's premier "Palais De Dance" venue. The height of its popularity came during the Second World War when service men would make a bee line for the venue, making "Sherry's" the Mecca of dancing on the south coast.
Dancing in the 40s and 50s
The atmosphere at the dance hall on any Saturday evening during the 40's and 50's was heightened for many of its patrons by its associations with Brighton's underworld of crime and gangsterism. The whole Brighton underworld scene was to be eventually immortalised by Graham Greene in his novel "Brighton Rock" of which "Sherry's" certainly played an active part!
Ritz Roller Rink
The building eventually became a roller rink (Ritz Roller Rink) in the mid fifties and remained so for many years, finally turning full circle, the venue is now a night club and dance venue once again!