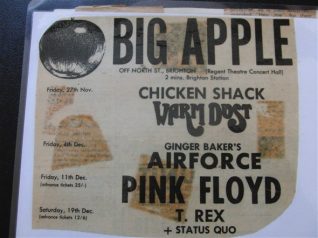 From the private collection of Howard Wade
Bunking in via the cinema
I remember seeing so many top bands almost on a daily basis! Could you afford that now? We managed as we would normally bunk in via the cinema , sometimes taking in the film on the way! The last leg was a long staircase up to the venue patrolled by an easily-bribed security bloke.
Queuing for The Stones
I particularly remember when War played, only when we got in we found that Eric Burdon was not there with them . The also management were very good and gave refunds to disappointed fans; so we did a few laps bunking in then claiming the refund : or is that a legend? We also queued all night for Stones tickets: down Ship Street, I seem to remember .
Did we know each other?
Peter Groves – I think we knew each other. Did you live in Hangleton? Did you have a brother called…..er Groves – sorry can't remember his christian name. If you are he, you would remember maybe Tony Oliver, Hilary and Rachel Heath, Colin and Brian.
Do you have Big Apple memories? Please share by posting a comment below
Neville and his bomb 
I remember the Cottage, in particular very a tall guy called Neville. He nearly blew himself up playing with some kind of home made bomb/firework in the Cottage. Give us a shout if you can Peter – I would really like to hear how you are going You can mail me at nick@wemoto.com