Previously known as Woodendean Farm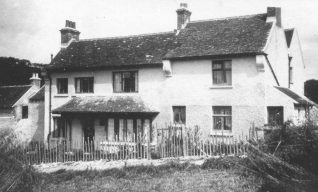 From the collection of Mrs Edna Curtis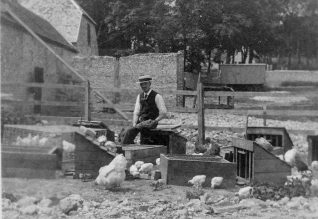 Kindly loaned by Mrs. Edna Curtis, Mr. Drake's daughter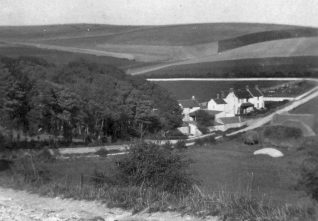 Kindly loaned by Mrs Edna Curtis of Woodingdean
Woodingdean Farm existed from before 1714 until about 1979. The farm's original name was 'Woodendean', i.e. a wooded valley. The name originated from the woods which used to cover the adjoining land and are very evident in old photographs of the area.
The Tithe Award Map
The earliest record of the farm is on the 1714 map which shows a symbolic drawing of a small thatched type farmhouse. This farmhouse was situated in the area of what we now know as Ovingdean Road and Falmer Road. The Tithe Award Map of 1839 shows Woodendean Farm as one of the five farms of Balsdean; 'Woodendean' appears in maps, directories and documents up till 1881.
First recorded mention of 'Woodingdean'
The first time 'Woodingdean' is mentioned is in Kelly's 1890 directory and subsequently the farm is always mentioned in this way. The Woodendean farmlands were measured at 439 acres in 1839 and 392 acres in 1900. In the 1920s these farmlands were sold and a large part of the present suburb of Woodingdean is built on them. Although these lands were sold, Woodingdean Farm continued as a working farm.
William Cowley
William Cowley, who farmed in Ovingdean and lived in Ovingdean Grange, moved to Woodingdean House in 1919 and in 1929 bought the farmhouse and land to the immediate north and south of the house. He also rented a considerable acreage of other farmlands and so he had quite an extensive farm. William Cowley's son-in-law Percy Filkins continued to farm at Ovingdean, but in 1945 he moved to Woodingdean Farm and farmed there until he died in 1979. During this time the locals referred to the farm as 'Filkins's Farm'.
Demolition of the farm
Woodingcote House and Gable End Cottage which were the original farmhouse were extended and sold privately. The farm buildings were demolished and a group of six private residences were built between 1985-87.