Working as a hotel telephonist in the 1940s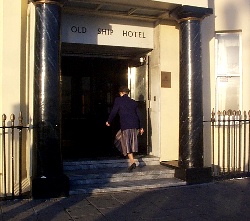 From a private collection
I saw an advert in the Evening Argus for a telephonist at the Old Ship Hotel and to my surprise, I got the job.On my first day I remember meeting another girl working on the switchboard about my own age -I was then about 16. Her name was Milly, she took me under her wing and showed me what I had to do.
Extra duties
Apart from answering the very small switch board we had to operate the lift and deliver messages to the residents. We even had to carry their luggage as there as only one porter, one page boy and the Head porter, who was a very sick man (or else he would have been called up into the forces).
How the other half lived
The hotel was indeed very old, with lots of stairs and creaking floor boards. The ballroom was closed and the hotel appeared to be very run down as it required inside painting and refurbishing. But to me it was wonderful and a chance to see the comfort of how the other half lived when they came to stay – for whatever reason.