Previously the Berkeley private hotel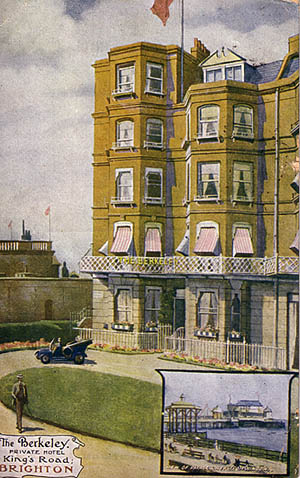 From the private collection of Trevor Chepstow
This original postcard of the Berkeley, a private hotel in King's Road, was posted in 1914 to a friend in Hay, Hereford. The post card was found by myself in a shop in Queens Road that specializes in postcards etc. The postcard was of particular interest to me as I had made an offer for an apartment in the block and was waiting to exchange contracts.
Built in 1868
The building was built in 1868 and looks very much the same as when it was built. The current building has an extra floor to the right of the building and on top is now a penthouse. The front of the building has black metal railings (similar to those shown on the first floor) up to the fourth floor and the front of the building is now a car park for the residents and holds seven cars.
Converted into flats
The building was converted to seventeen flats about fifteen years ago and is now called Berkeley Court. The top floor apartment to the left is my apartment.