The decline of a well-known landmark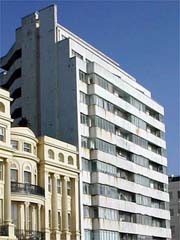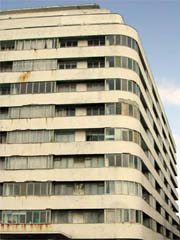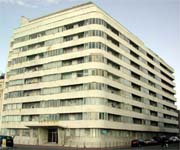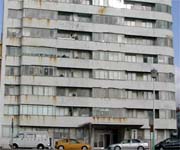 Photos by Trevor Chepstow
This selection of photographs shows one of Brighton's best-known landmarks Embassy Court, which is situated in Kings Road, virtually on the border of Brighton and Hove.
A fine example of Art Deco style
Built in 1935 and designed by the well-known architect Wells Coates (who also created the revolutionarily Ekco Bakelite radio cabinets), the building has long been acknowledged as one of the finest examples of Art Deco style in the country. With its ocean liner styling, it was considered the height of fashion at the time and the clean simplicity of its lines is typical of the very best architecture of the period.
A most sought after residence
This unique building was the first in the country to introduce penthouses and was one of the most sought after residences on the south coast. Situated on the ground floor was a first class restaurant where residents could order room service, and it was one of the few buildings in the country to boast of having a bank within the building. All of this was finished off with a fully liveried doorman who would greet the fashionable and wealthy visitors who flocked to the town in the 30's and 40's.
The rich and famous
In its heyday Embassy Court was a magnet for famous people and certainly one of the smartest addresses in town. Two of its more famous residents were comedian Max Miller and Rex Harrison.. For many years the building retained its fashionable status and drew people from all parts of the country to admire its unique styling and plush interior.
A grand old lady in disrepair
Unfortunately this grand lady has fallen into disrepair over the years through mismanagement and is now in a dilapidated state. The building is now in urgent need of renovation to bring it back to its original state and to reinstate its status as one of the finest addresses in the City!