The first stage of refurbishment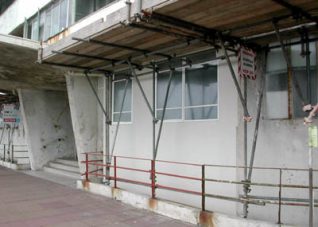 Major restoration work at Embassy Court, the long-neglected block of flats on Brighton seafront, has started this month (June 2004) with the first trail "Crittall" window installed.
A £5 million plan
The first stage of a planned £5 million refurbishment at the art deco building will begin when hoardings and scaffolding are installed and will start at the top and work down.
Sir Terence Conran involved
Design guru Sir Terence Conran is working with residents on plans to restore the decaying building to its original glory. Swimming pools, a restaurant, an art gallery and a museum have been suggested as possible improvements to the building, which has become notorious after falling into disrepair.  Lobbies and corridors are being cleaned after years of legal disputes over who should pay for maintenance allowed them to become grimy and vandalised.
Sent to the website via the contribution form by Trevor Chepstow on 14-07-04