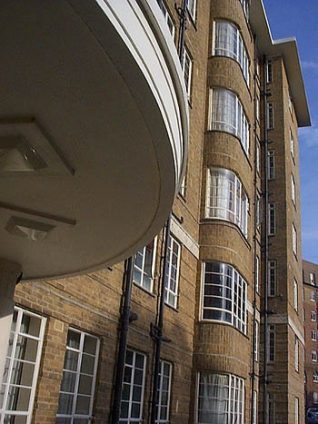 Query
by Pat Sheehan, bookseller
e-mail sent to site 19 September 2002
Like an Art Deco ocean liner
"I live in Furze Croft, and I think it's a gorgeous building. I love the curves, the light stone, the concrete waves around the circumference of the building. I feel as though I'm stepping onto a fantastic Deco ocean liner everytime I come into the lobby.
Captures the essence of living at the seaside
I can't understand why, when so much care is taken to restore and conserve the Georgian, Regency and Victorian architecture, so little is done to help with the buildings built in the 20's and 30's…They say so much more about living in a seaside town.
Does anyone know where I can find any photos of Furze Croft around the time it was built?"
Response
by Geoffrey Mead, local historian
e-mail sent to site 19 September 2002
Furze Croft is (as the message above makes clear) a wonderful set of Thirties blocks at the southern end of St Annes Well Gardens. It was advertised in a copy of the Brighton and Hove Herald in June 1936 as being brand new and there are some illustrations of it. However, on the newsprint of 66 years ago these are not very clear. During much of its life Furze Croft was a seen as a luxury development, and (I believe) as a development with a high proportion of Jewish inhabitants