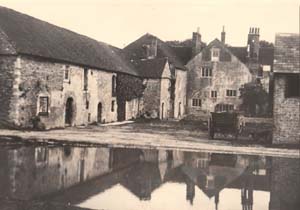 "I recently visited Brighton and lunched at Hangleton Manor. It seems such a lovely old building, I thought it was bound to have a researched history, but we can't find out much about it. We know it is Tudor but with possibly a longer history – do you know any more about it? I understand that it is supposed to be haunted."
Response 1
By Martin Snow: sent to website by e-mail on 28/10/02
"Interesting – I was in there today with a gentleman who I met at St Helen's to take a set of pictures. Did you know that it has some medieval Wall Paintings? See the pics!
He told me all sorts of things, the building has a long history, mostly as a private residence. It was a hotel between the wars and only became a pub in the 50's or 60's. There is a dovecote behind it (I have some piccies of that somewhere). There is a booklet somewhere on this, from when it was restored some 10 years ago.
The bar to the left on entering was a chapel. A piscina remains, and there are texts on the wooden panelling. There is an interesting ceiling which has been restored in the last 20 years. The main bar was a dirt-floored kitchen in the 1950's!  Hangleton has an interesting history. The manor(s) go back to Domesday. The original village was under the council housing on the hill. It was dug before the estate was built. It later moved down around the manor house – in the valley.
Here are the results of a quick look for info – perhaps a visit to Hove Library will help."
Author: Scales, W. F
Title: Story of Hangleton Manor, Hove
Publisher/Date: Brighton, H. Crowhurst, 1969
Author: Laker, Colin
Title: Hangleton in the Past, a Parish History
Publisher/Date: Scaly Graphics, 1991
Author: Laker, C. A
Title: Parish of Hangleton and the Churches of St Helen and St Richard
Publisher/Date: Ramsgate, Church Publishers, c.1969
Author: Laker, Colin
Title: Hangleton Manor Dovecote, Its History and Restoration, written by Colin and Sheila Laker with Ron Vosper and Compiled by Gordon Somerville
Publisher/Date: Hangleton Manor Dovecote Restoration Committee/Hove Borough Council, 1989
Response 2
By Ray Hamblett: sent to website by e-mail on 29/10/02
"Although I can admit to spending most evenings for about a year a half drinking and socialising at the Manor Pub in the early 80's, I don't think I can add much anecdotal interest.
Renovation work
The owner then was Ken Crosby who made money in the motor trade before buying the dilapidated building. I think he did a great deal of work to make it habitable. I worked for him on a casual basis, doing a bit of painting around the place. The kitchen extension footings were started by me but it was some months before any concrete was laid. I had moved on by then. I didn't find any artefacts in the ground.
A skull in the public bar!
I recall the ceiling of the chapel, it had embossed roses in white and red. It was then the T.V. lounge and pool room, also used for private functions. I remember a skull in a glass case in the public bar, I don't recall the legend of it. The restoration of the Dovecote was in the planning stage, I don't think Ken owned that bit of land.Much of the wood panelling is modern, built and stained with shoe polish or wood dye by Bill the carpenter who was Ken's right hand DIY man, but a section in the public bar came from Michelham Priory.
Hope that helps a bit. If I think of anything else….
Response 3
By Thomas Scrace: sent to website by e-mail on 23-07-2003
All I know is that Hangleton Manor used to be inhabited by the Scrace family. The coat of arms is on the ceiling of the chapel.