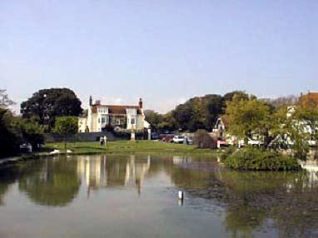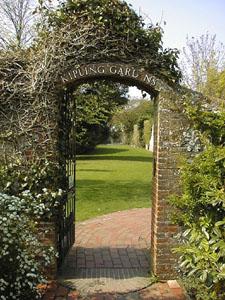 The Elms was built by William Ridge in 1745. The house is situated on the green and opposite the church. Rudyard Kipling was acquainted with Rottingdean as his aunt, Georgina Burne-Jones, owned North End House as a holiday home. This house which also faces the green, was formed in 1880 by joining together Prospect House and Aubrey Cottage and was originally inhabited by the famous pre-raphaelite painter Edward Burne-Jones.
Kipling found inspiration from the area
Rudyard, romantically named after the lake in Staffordshire where his parents became engaged, rented The Elms for three guineas a week from 1897 until 1902. He found great inspiration from the area and wrote many of the "Just So Stories" here. Sadly, when his eldest daughter Josephine died in 1899 he could no longer feel happy in the area. With his daughter's death and the fact that he was a focal point for tourists, he decided to up sticks and left the village in favour of a more secluded existence in Burwash.
The wishing stone in the wall of The Elms
The wall around the house is made of flint and there is one stone amongst the many in the shape of a face. This has become worn slightly over the years but as a child I was told by my Grandfather that if you touched its nose, closed your eyes, made a wish and turned around three times your wish would come true. Whether or not this was official, or was from my Grandfather's imagination, is debatable but the fact remains that if you are twirling around with your eyes closed in the middle of the road you only just have time to make a wish before being spooned into the back of an ambulance.
Kipling's garden saved from the developers
When the house came back on the market during the 1980's, it was proposed that a large part of the garden be sold off for a housing development – fortunately this idea was quashed! The Rottingdean Preservation Society bought the land and transformed it from an overgrown wilderness into the beautiful Kipling Gardens which has various sections within its generous two acres for members of the public to enjoy.