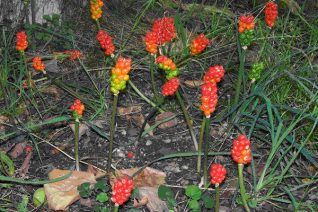 Until about 1957 the East Moulsecoomb bus, which was a 109 run by Southdown, terminated in Moulsecoomb Way at the top of Shortgate Road. This meant the residents of the lower part of Halland and of Ashurst Road had a long uphill trudge to the bus stop.  The easier and shorter route was to catch one of several buses from the junction of Newick and Barcombe Roads in North Moulsecoomb. To reach this bus stage meant walking under the railway arch and through 'The Lane' which at its end joined with the Lewes Road, commonly known as 'the main road'.'
Lovely way to start the day
In the summer this country walk was a lovely way to start the day and I shall always remember hearing a cuckoo close by somewhere in the trees. There were many trees, a knarled old one had a wasps, or it could have been a bees nest in it, every year.  During the early summer lords and ladies (arum maculatum) with their scarlet berries threw colour into the green and brown hedgerows as did the softer colours of celandine, wood anemones and dog violets.  In later months holly added its own bright colour.
Imagined horrors
This pleasant place however changed when night fell, there was no lighting and great horrors were imagined in the dark hollows, could there be 'a man' waiting to pounce? To avoid some of the dark lane a detour along Newick Road brought you to a gap where the remaining third had to be traversed, usually at as a great a speed as stiletto heels would allow. The path was rutted and many a trip caused laddered nylons, the owner gasping for breath in her haste. The welcome sound of your feet echoing in the arch and the familiar noise of the cattle in the bottom field munching vegetation and evacuating their bladders and bowels, meant you had reached safety.