Lovely times doing simple things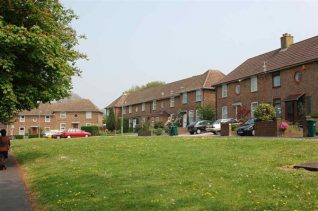 Gathering twigs for fire-lighting
When we were children grandma used to take us "up the hills" to collect sticks and bits of wood. We would go along what I think was called the 'cinder path' which ran along the back of the gardens, then under the railway bridge. The woods were along further on the left. We gathered all the small twigs for fire lighting and if we were lucky a bigger piece of wood had fallen, then June and I would drag it home.
Grandma's wonderful jam
In the season it would be black-berrying; we would go the same way but instead of turning left we went straight on until we came to the dewpond then up the hill to the top. We collected pounds of blackberries so Grandma could make blackberry and apple pie; she used apples from Grandad's apple trees in the garden. Sometimes she would make the most wonderful tasting jam.
A nostalgic visit
Many years after my grandparents died I went to visit someone in East Moulsecoomb, and whilst we were standing in her garden I got a strange feeling about the surrounding countryside. I said to her that it felt just like the place we used to blackberry where there was a dewpond at the bottom of the hill. My friend agreed that there was indeed a dewpond at the bottom. We were standing right on the spot where the bushes used to be. I often think about the lovely times we had doing simple things with our grandparents.
Do you remember?
Does this ring any bells? Do you often think about these sorts of times when you were a kid? If you can share your memories with us, please leave a comment below.