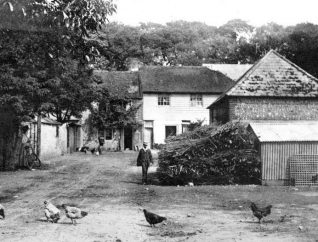 From the private collection of Jennifer Drury: click on the imgage to open a large version in a new window.
Early settlements
Settlements have existed in and around Ovingdean since at least during the Iron Age about 600BC. In ancient documents the area is described as 'Ofamn-inge-denu' or 'the valley of the meadow of Ofa'. The Domesday book of 1086 records that the manor of 'hovingedene' was held by Godfrey de Pierpoint from William de Warrene. This William was related by marriage to William the Conqueror. At that time the population of Ovingdean was about 90 people who included the lord of the manor and his family. The other inhabitants were villagers, serfs, a priest and his family and several shepherds and labourers.
Beginnings of residential development
In the census records of 1911 the population of Ovingdean was recorded as 248; not a very significant increase in relation to the passage of time. But it was only several years later that the gradual development of the modern residential area we see today had its beginnings. In the period from 1919-39 first generation shacks and bungalows were built on plots on Long Hill. The most significant stage of development began in the 1970s when second generation 'upmarket' houses were built and infilling was prevalent.
Notable buildings
The oldest building in Ovingdean is St. Wulfran's which is the 'little church' mentioned in the Domesday Book. It is essentially an early Norman building which has been restored and altered many times. Ovingdean Grange, (Grade II listed building) began its life as a Tudor farmhouse but has been very extensively rebuilt over the centuries. It was immortalised by Harrison Ainsworth in the book of the same name. Unfortunately the legend that Charles II stayed there during his escape from the battle of Worcester in 1651, is not historically corroborated.