Georgian mansion built c1830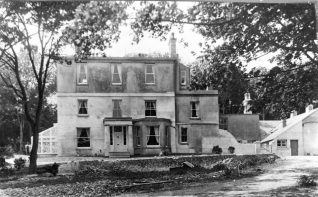 From the private collection of Jennifer Drury: click on the imgage to open a large version in a new window.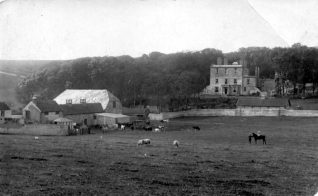 From the private collection of Jennifer Drury: click on the imgage to open a large version in a new window.
Built circa 1830
Woodingdean House was a large Georgian mansion situated in what is now Ovingdean Close, Ovingdean. The house was probably built around 1830; it certainly existed in 1839 as it is on the 1839 Tithe map. Woodingdean House was originally in Rottingdean parish until it was transferred to Ovingdean parish in 1952.
Originally Woodendean House
Sir Thomas Barrett-Lennard bought the property in 1888 and lived there until 1919. Originally the house was called Woodendean House, but it was changed, probably by Barrett-Lennard, and the 'en' substituted by 'ing'. Miss Laura Hollands who was born in Ovingdean in 1911, remembers that as a child she often met Mr. Lennard walking over the fields near where she lived. She remembers opening the gate for him and getting a sixpence for her trouble. Mr Lennard and his family lived in Woodingdean House until 1919.
Richest woman in Brighton
William A. Cowley, whose family farmed at Ovingdean from 1877 until 1945, bought Woodingdean House in 1919, and lived there until 1929. The house was then sold to a rather colourful character, Violet Van der Elst, known as 'the richest woman in Brighton', who owned the house for the next ten years.  She was reputed to have fifteen servants and three Rolls Royce motors cars. Well known in Brighton as an eccentric, Mrs van der Elst led a campaign for the abolishment of capital punishment.
Demolished c1965
In 1939 until 1945 the house was owned by T.H. Sargeant – better known as Max Miller.  The 'Cheeky Chappy' actually very cheekily changed its name to Woodland Grange, it certainly was not a Grange, but maybe Max thought the new title made it sound more grand. From 1945 the house was owned by a Mr. Vanderborght. He died in 1962 having sold part of his grounds for a housing development.  In 1965 his executors sold the rest of the land and the house was demolished. Ovingdean Close and the houses nearby on Ovingdean Road were built between 1958 and 1966.
Reminiscence of Woodingdean House
Jennifer Phillips of Field End, Ovingdean, remembers Woodingdean House
"As children we would play in the grounds of Woodingdean House; they had a disused swimming pool in the grounds.  In the garden there was a long low cowshed which was turned into a bungalow.  It obviously had at one time been a very grand house.  The garden was totally unkempt except for one thing – in the front there was a huge lawn and an absolutely enormous conker tree – the remnants of this tree are still there.  Every Spring on the lawn there was a thick carpet of double daffodils – they were just amazing.  When they eventually built Ovingdean Close on the site, there wasn't one daffodil that ever came through anybody's garden – I always looked".