Memories of working at the Aquarium in 1972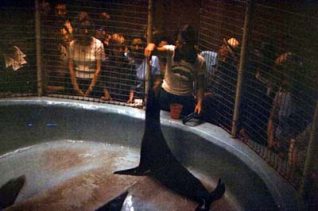 Scanned from the author's private collection
When I worked in the Aquarium during the summer of 1972, the first job of the day was to melt the block of ice containing herring that had already been placed in a tin bath for me. I spent half an hour or more playing a hose on it, and breaking it up with my fingers. Then the tin bath had to be dragged into the preparation room and then I had to gut and chop the fish. The guts went down the waste disposal unit and the heads and chopped bodies went into a bin ready for feeding time. By that time I'm covered in fish scales up to my elbows!
Next job is to climb in with the sleepy sealions and sweep all the poo away into the water. The waking sealions could seem a bit scary sometimes because they did seem to be grumpy as they barked at me.
Feeding time – the public's favourite bit
Feeding time – the public's favourite bit – involved a trick with Fred. I would walk halfway round their enclosure and push my way in through the crowds. On cue, Fred would jump right up on the wall, and make everybody else jump too, as I fed him his fishy reward.
I also looked after two rescued seals called Yogi and Sunshine, with their big, weepy eyes and sad faces. I taught them both to press a car hooter with their noses for a fish.
Fish scales up to my elbows
My boyfriend at the time wore an aubergine suit to work and we would meet for lunch. Picture this, me in jeans and stinky T-shirt with fish scales up to my elbows, him in an aubergine suit sitting on the Aquarium Terraces eating our packed lunches and staring into each other's eyes.
I did have to make sure I had a shower and changed before I joined the public for the bus journey home. I would walk past the dolphins to get to the shower and they would always swim over for a squeaky conversation. I was given the opportunity to swim with them a couple of times in their pool and it was spectacular. They are so inquisitive. I was able to stroke them – they feel a bit like freshly boiled and shelled eggs.
I left Brighton in 1976 and heard later that the dolphins had been released – I hope they are happy, swimming free somewhere warm.