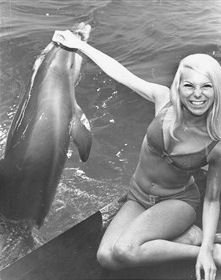 From the private collection of Denise Taylor (Wixey). Reproduced with kind permission of The Argus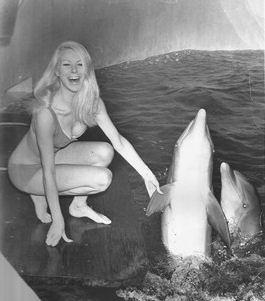 From the private collection of Denise Taylor (Wixey). Reproduced with kind permission of The Argus
'Prinny' and 'Belle'
Many years ago my father, Dennis Wixey, was Chief Photographer with The Evening Argus, and I was often called upon to assist with local news  stories. The photographs here were taken in 1968/69 when the dolphin pool had newly opened, just before a new larger pool was built. I believe the dolphins names were "Prinny" and "Belle" Initially the dolphins were contained in a high sided pool which seemed very small for their size and speed.
Released back into the wild
I 'swam' with the dolphins, holding onto their fins as they swam by. I was told at the time that they had been brought to this country by an American trainer, who had accompanied them from Miami. Between 1982/3 there were extensive renovations to the pool and the Dolphinarium was a successful venture, but eventually a consortium of animal rights groups began a project to release the last remaining dolphins "Missy" and "Silver" back into the wild. They were released in 1991 off the Caribbean island of West Caicos.
I am pleased that I was around to see this brief moment in Brighton's past, but more delighted that these memories can be relegated to that particular time in history. Now the well-being of dolphins is seen to come above and beyond a commercial undertaking.