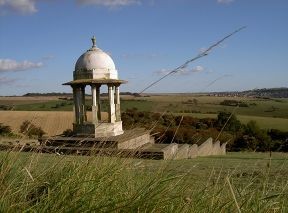 Standing 500 feet above sea-level on the Downs to the north of Patcham Court Farm, and accessed by bridleway only, is the Chattri, a memorial to the Indian soldiers who died at the Royal Pavilion when it was used as a hospital in the First World War.
A listed building
Now a listed building, the Chattri was erected by the India Office in conjunction with the corporation on the site of the 'ghat' (place of cremation), and was designed in white Sicilian marble by the student architect E.C.Henriques under the supervision of Sir Samuel Jacob.
It is an octagonal, domed monument with pillars twenty-nine feet high on a stone plinth; three granite blocks cover the concrete crematory slabs. The memorial was unveiled by the Prince of Wales on 1 February 1921, and bears the following inscription:
'To the memory of all the Indian soldiers who gave their lives in the service of their King-Emperor this monument, erected on the site where the Hindus and Sikhs who died in hospital at Brighton passed through the fire, is in grateful admiration and brotherly affection dedicated'.
Two acres around the Chattri have been laid out as a garden.