Before the Second World War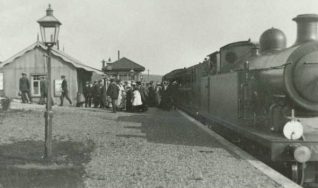 From the private collection of Kenneth Why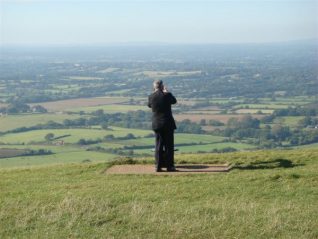 From the private collection of Kenneth Why
There was something special about Devil's Dyke
Before the Second World War.
We would make our way to Brighton Station
For a train that runs no more. 
Mother would pack a neat little bag
Which held a thermos of tea,
With milk in a small glass bottle
And sandwiches for we three.  
We sat on the grass above the Dyke,
Close to some blocks of stone,
All that remained of an aerial runway
Long since dismantled and gone.  
Behind us the coconuts clung to their cups,
Defying the strong Sussex arm
Which delivered its balls with incredible strength –
But seemed to do minimal harm! 
We stood and we gazed at the wonderful view,
To the west, to the north, to the east,
Over acres of woodland, farm and field;
A truly remarkable feast. 
I never imagined, small chap that I was,
That this peace could ever be shattered;
But storm clouds were gathering unknown to me,
And our island would shortly be battered.  
We wandered, hand in hand, down the hill,
To the halt, where the little steam train
Stood waiting to carry us back to the town.
Would there ever be such bliss again?