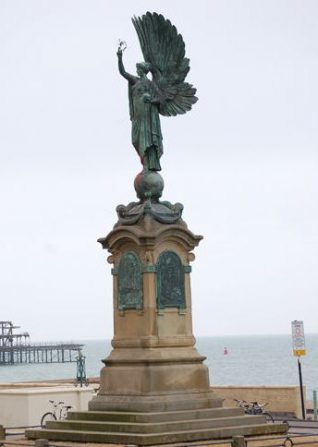 The peace statue, some 30 ft tall, depicts an angel of peace, holding an orb and an olive branch. It is in fact a memorial to Edward VII, 'The Peacemaker', who convalesced several times in Brighton and restored some of the town's fashionable reputation.
It was designed by Newbury Trent and bears the arms of both Brighton and Hove boroughs. The statue was unveiled by the Duke of Norfolk in October 1912, on the same day as a new home for the Queen's Nurses was opened.
For a year before the erection of the statue proper, a wooden model of it stood in its place. The site of the statue itself is actually in Brighton, but the responsibility of maintaining it is Hove's.