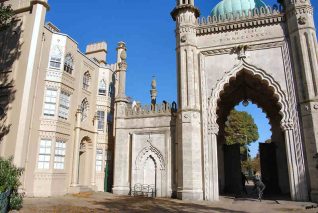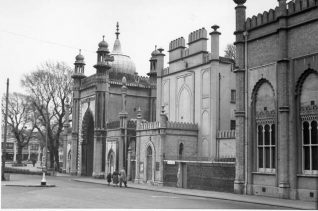 Please note that this text is an extract from a reference work written in 1990.  As a result, some of the content may not reflect recent research, changes and events.
m) NORTH GATE HOUSE: Adjacent to the Royal Pavilion's North Gate stands North Gate House, a three-storey, grade II*-listed building and the only remaining house of a terrace of nine which once stood alongside the road through the Pavilion grounds . Known as Marlborough Row, this terrace was probably erected in about 1774, but nos.1-4 were demolished in 1820 and nos.5-7 in 1821. No.9 was a small blacksmith's shop whose owner refused to sell out, but it was eventually compulsorily purchased for the widening of Church Street .
North Gate House itself was presented by William IV to his sister Princess Augusta in 1830, and in 1832 was refaced with oriental windows and decorations to match the style of the new North Gate. Since 1930 it has housed the offices of the Royal Pavilion, art gallery, museum and public library, and it also housed the children's library for a time. It is hoped eventually to house the National Toy Museum in the building.
Any numerical cross-references in the text above refer to resources in the Sources and Bibliography section of the Encyclopaedia of Brighton by Tim Carder.