Inaugurated for Queen Victoria's twenty-seventh birthday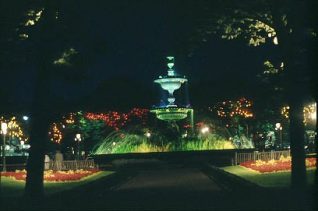 Photograph and text supplied to website by Ray H., a local photographer, in November 2002
"Standing at the centre of the southern enclosure, this listed fountain was inaugurated on 25 May 1846 for the Queen's twenty-seventh birthday. Designed by A.H.Wilds, it was financed jointly by John Cordy Burrows and a public subscription, and was cast at the Eagle Foundry in Gloucester Road.
Dimensions of the fountain
It stands thirty-two feet high, with two shallow basins supported by three cast-iron dolphins above a large pool, and has a base of sarsen stones which were found in the Steine by workmen in 1823. To commemorate the inauguration, local musician Charles Coote composed the Fountain Quadrilles.
In 1990 the top of the fountain was removed for restoration."