Can you help the National Gallery?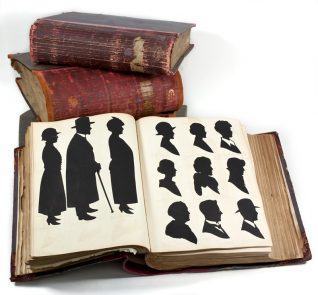 ©National Portrait Gallery, London; photo by Liz Dewar, Digital Programmes
Crowdsourcing project
The National Portrait Gallery has launched a crowdsourcing project online, to transcribe the names of tourists on the West Pier, Brighton, whose silhouettes were cut by Hubert Leslie between 1922 and 1940. Hubert Leslie kept meticulous records; he pasted a duplicate of each silhouette into a record book, and the sitter signed their names, and in some cases their addresses underneath.
Recreate the database
Alongside the ten volumes of record books was a card index of all his sitters names, directing him to the correct page of the correct record book. This allowed him to produce duplicates instantly, even years after the original was cut. In WWII, he took the patriotic decision to give up his card index for paper salvage, as part of the war effort. We are attempting to recreate this database digitally, so people can find their parents and grandparents portraits online.
Make someone happy
One of the loveliest things about the project is that suddenly, very ordinary people, who would never expect it,  are going to discover they have a family portrait in the National Portrait Gallery collections. The sitters are from absolutely all classes, nationalities and social groups; it is incredibly inclusive. Transcribing a name is a random act of kindness; you know that it will make someone, somewhere, very happy indeed.
Can you help?
Over the door of Hubert Leslie's Brighton Silhouette Studio was his slogan 'It only takes 5 minutes'. Help to transcribe the signatures; each one should only take you 5 minutes. With your help, we can put a name to a profile, and give that person their place in history.You can find details of this unique history project here. If you do decide to help, maybe you could post a comment below and tell us about your experience