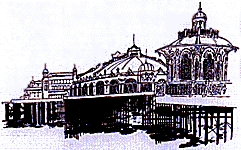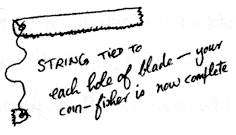 Arthur Thickett worked on Brighton's West Pier in the 'sizzling 60s' (1970, actually). In this extract from his memoirs 'Deck Hand, West Pier', he reveals the secret of 'The Fiddle'…
All jobs have a 'fiddle'
What was 'The Fiddle', then? Well, as every self-respecting working class person knows, all jobs have 'a fiddle' if you can find it.  Now there are fiddles…and fiddles. This one was almost respectable: I suppose it was more or less legal – probably less. Our little racket: it was 'fishing for money.' A real gem of an operation: pure poetry – almost.
Underneath the pier
Piers, as I am sure you are aware, consist of planks firmly secured to superstructures, with gaps between each plank…And of course directly below the deck it was all sea or stony beach – or rather, nearly all. Because, not far off the shore-end of the pier a couple of solidly built machine-huts were situated, just below the pier level, secured to the pier supports. They housed various mechanical and electrical things as well as other unspeakable mysteries, alive or otherwise.
A regular little goldmine
The flat roofs of these structures were just below the pier planking, about eight or nine inches below. On top of the flat roofs a load of coins had accumulated, a regular little gold mine. It is quite likely that slot-machines had been located in that particular area at times – I didn't know or care, I was only interested in the painstaking but ingenious method of recovering these coins…"
How to make a coin fisher
I soon acquired a coin-fisher (see illustration) and operated it frequently and successfully. Whilst fishing for cash I had to keep the public out of the way – after all, it was their money – but that was easy. I simply roped off, with appropriate 'keep out' signs, a twenty-five yard or so half-section of the pier above the huts.  The coins I fished up were anything from half-pennies to half-crowns, with, somewhat astonishingly, even a few of the new 50p coins.