Fond memories of the 1950s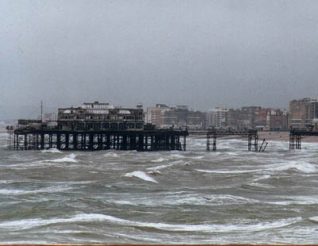 As a Brightonian whose first memories were of Clarence Square, my playground became the seafront by the West Pier and I have very fond memories of that time in the early 1950s.
Happy days fishing
There was a car track on the landward end and an amusement arcade under a part of it – I think that I can still hear the rumble of the wheels above my head. There were lots of happy days fishing from the landing stages.
The future of the pier?
What to do with the pier? I am biased by memories but whatever is to be done – then do it now! – one way or the other – don't leave it like this.
I took this photograph earlier this year (2002) and the view matched my thoughts of the West Pier at the time – retrospective, brooding and a little melancholy.