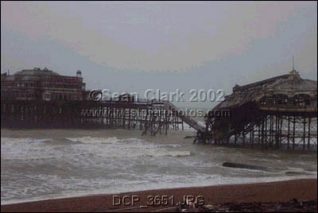 Image reproduced by permission from Sean Clark, photographer. Many more images of the West Pier, can be found at his site
www.westpierphotos.com
I was so very sorry to learn about the partial collapse of the West Pier. The news we heard months ago that there were plans to restore this unique Victorian structure and that the finance was forthcoming was very heartening. In my view this is a stand alone project and should not be muddied by anything that will detract from the Pier. The Pier is the star and focal point.
Memories of happy childhood days
We spent many happy hours as children and with our own children in the 60's enjoying the delights that this genteel if faded Victorian lady provided. For goodness sake, someone, get on with it and save this bit of Brighton's heritage before it is too late!