Happy 1950s Summers on the beach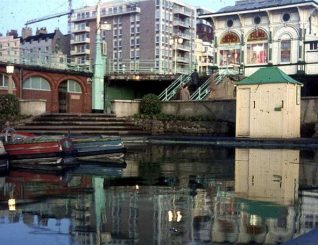 A fun place
We lived in Bennett Road in Whitehawk, and in the summers of the 1950s, on Sundays my Mum would lay the tea table with all sorts of goodies, ready for when we would come home starving from a hot day on the beach that was immediately west of The West Pier. My Mum and Dad, sister and brother, would get on a number four bus from Arundel Road to Preston Street off Western Road, and walk to the beach.
Making some pocket money
On the way we kids would cajole my Dad into getting some sweets at a little shop halfway down Preston Street. My Dad always took a methylated stove for having a brew on the beach with our sandwiches. We loved this beach and the surrounding area. We would sit and watch the boats on the boating lake for hours, not being able to afford a ride in them.  But here was plenty to do. For instance at the end of a hot day I would collect deckchairs that were left on the beach and get back money for them. Collecting empty lemonade bottles was another way to earn some pocket money.
Everlasting happy memories
When the tide was in, diving off of the groyne was good fun, and when the tide was out you could walk almost to the end of the pier. There were toilets right near the pier, an ice-cream and sweet shop, and a cafe. There was also a little paddling pool in the area and the water was always warm on a hot day and the pool was crowded. I am disgusted and very sad at the way the poor old West Pier met its end over the years. But the memories will remain in my mind forever.