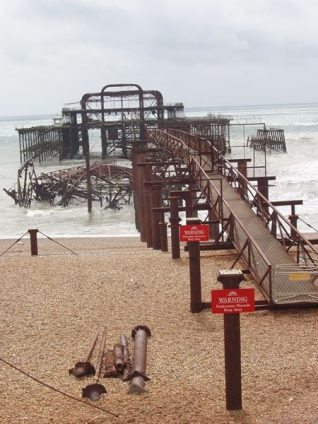 Palace Pier's poor relation
Being born in 1949 I obviously missed the halcyon years of the West Pier, and by the time I noticed its presence, it was well into decline and already a poor relation to its younger sibling further east. During the 1950s I never actually set foot on the West Pier; the prospect of paying a sixpenny admission for its fading glories did not look like value for money to my impecunious parents. The only excitement for me was to watch the large red speedboats which gave trippers rides from the pier's jetties, surging at seemingly breakneck speed into the narrow gap between the piles and reappearing on the other side.
Day out on HMS Brighton
I did however get to tread the old lady's boards on one occasion for free. In 1962, I was in council care during my mother's lengthy illness, when the Royal Navy's frigate HMS Brighton paid an official visit to its adopted town. On this occasion, a large number of local disadvantaged children were invited on board the vessel for a day out organised by the crew. We embarked from the West Pier's jetty on to the Brighton's cutter, which ferried us out to the vessel at anchor a quarter-mile out. The party thrown by the crew was wonderful and included pirate games culminating in several crew members walking the plank into the sea, fully clothed.
West Pier's gradual disintegration
At the end of the afternoon we were returned to the West Pier and thence to dry land. My only clear memory of the pier itself that day was of the already fairly parlous state of the decking, with the grey sea heaving visibly through the cracks underfoot. Of course, you never miss your water till the well runs dry, and as an incurable nostalgic I am now desperately sorry to see the tribulations and eventual failure of the brave efforts to preserve the old lady. I live in Bath nowadays but return to Brighton for a visit every couple of years, and to observe the gradual disintegration of the remains by fire and storm has been heartbreaking.