In business from c1912 until 1968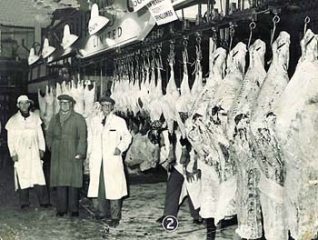 Photo reproduced with permission from the Evening Argus
The town's wholesale meat market was formerly situated in Russell Street, in a building originally erected in 1876-7 as the Church of the Resurrection. Built for the Revd Arthur Wagner, it was intended as a simple chapel of ease to St Paul's for the fishermen of the area.
Built partly below ground
The adjacent Cannon Brewery objected to the proposed height of the building, so the architect, R.H.Carpenter, built it partly below ground; it was reached by thirty-two steps. The red-brick exterior was extremely plain, while the interior had a north aisle and a very tall nave.
Demolished in 1968
The church was consecrated in 1878 but closed in about 1912, and it was then used as a meat market until it was demolished in 1968 for the Churchill Square scheme. The market was replaced by a new facility adjacent to the abattoir at Upper Hollingdean Road.