A potted history, 1919-2003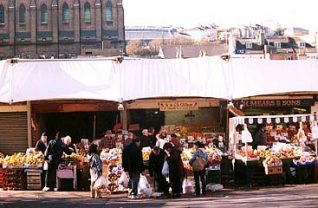 The Open Market started life in 1919 as an unofficial market in nearby Oxford Street. The barrows, mostly owned by ex-servicemen, were soon moved to the rose walk in the centre of the Level, but in 1926 a permanent site was found on the gardens of Marshall's Row (the site of the present market).
These cottagers were demolished in 1938 with the exception of Dawkin's smithy, which survived until about 1960. In front of this was a horse stock for shoeing fractious horses and a tyring wheel for shrinking iron rims onto cart wheels. Inside was the forge and anvil for shaping the horse shoes, a welcome spot on a cold winter's day.
With the demolition of the cottagers a line of permanent stalls under a tiled roof was created selling mainly cheap fruit and vegetables. The market was extended in 1960 by using the rear gardens of Baker Street, when the present stalls were constructed.