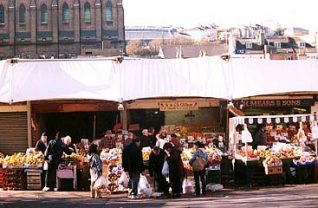 Three weeks ago I moved here and before I could indulge in sight seeing, I had to answer a more pressing question? Where to get good produce from?
Brighton and Hove's number one address when it comes to tasty fruit and fresh vegetables is the London Road Open Market. The friendly vendors on this small market offer extraordinarily cheap food.
On my weekly visit I never spend over ten pounds, but carry bags full of delicious apples, broccoli, grapes, tomatoes or mangoes back home. There is a good range of fish, meat or eggs on offer, but as a vegetarian, I am especially fond of the cheese stall inside the market building. Besides the English cheddar, there is French Brie, German cream cheese, Parmesan or blue cheese. All are sold incredibly cheap.
Last but not least, check out the stall with dried fruit! For me, there is no doubt: the raisins, dried apricots, dates or figs are the most delicious in Brighton and Hove. And the best – on the benches next to the stalls, I always sit and watch the people while I taste a bit of what I bought.