Originally adjacent to Dyke Road workhouse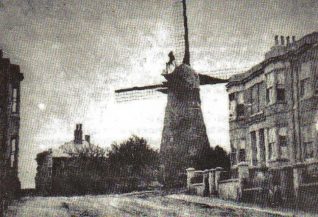 HT Dawes "The Windmills and Millers of Brighton"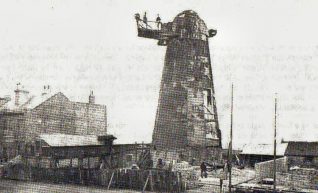 I was born at number 9 West Hill Road near Seven Dials and vividly recall that area during the war. Some of the surrounding streets had buildings that had caught bombs aimed at Brighton Station and these became great places for us kids, who had no thought of danger, to play in.
Fabian's Builders Yard
My grandmother, her 3 daughters, their 3 husbands and all their respective children, occupied a small 3 storey end of terrace house next to Fabian's Builders Yard. Old Mr Fabian hung his ladders on the wall of our house and not his own property, but then I could not understand why. I found out later that he had no alternative because his offices and store occupied the former base of Hodsons Mill which was hexagonal rather than rectangular.
Partly demolished c1840s
Apparently, the upper part of this mill had been demolished almost a century earlier along with the Dyke Road Workhouse and infirmary which had been in the adjacent field. Up until the 1950s the mill's base and some of the grinding mechanism still remained, but then everything was demolished and a row of garages were built. Later these garages were themselves demolished and replaced with further terraced housing.
One of my best presents
As the war meant childrens' toys were often difficult to get hold of, one of my best presents ever was a box of tiny timber off cuts from Fabian's timber workshop which was then housed next to a small church like building opposite. I was told this had formerly been a small police station which had ironically been constructed over the mill's original saw pit, but as a four year old all I was then concerned with was the wonderful smell of newly sawn wood, and my offcuts which I could make things with. After taking great pains to build a castle, my elder cousin and I would bomb it, just like the Germans were then doing to us.