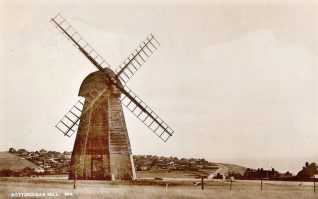 From the private collection of Tony Drury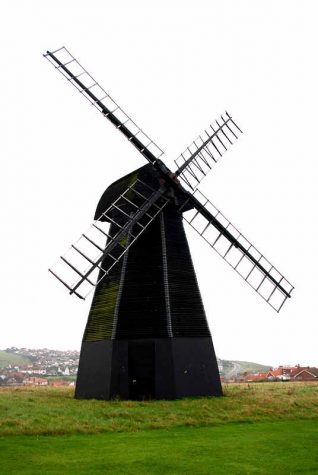 Please note that this text is an extract from a reference work written in 1990.  As a result, some of the content may not reflect recent research, changes and events.
Rottingdean Windmill stands to the west of the village on Beacon Hill, approached from Marine Drive, and is also known as the Beacon Mill. This famous smock-mill, which is said to have been used by smugglers for signalling, was erected in 1802 and continued grinding corn until 1881, but it then fell into disrepair before being renovated in 1905-6 by the Marquess of Abergavenny. In 1923 it was leased to a preservation trust, but it was not fully repaired until 1935, by Brighton Corporation some years after it had become the landowner in August 1929; by then the mill had lost its sweeps and much of its weather-boarding. Further repairs, including new sweeps and bracing against the prevailing winds, were carried out in 1966 by the Rottingdean Preservation Society with a grant from the corporation, and exterior renovation took place in 1975; the sweeps were again removed for repair in October 1988. The octagonal mill, which is weather-boarded above a stone base, is now a listed building and has become world-famous through the stylised silhouette of Sir William Nicholson which is now the trademark of publishers William Heinemann. An earlier windmill at Rottingdean stood near Bazehill Road from around the early eighteenth century until about 1817.
Beacon Hill itself reaches 216 feet above sea-level and was the site of a warning beacon, one of a coastal chain established by Henry VIII. There are also several archaeological sites on its slopes. In digging the foundations for the windmill in 1802 the skeleton of a warrior was found, bearing a sword which was later stolen. In 1862, during an improvement to the Rottingdean cricket pitch which was sited here until 1914, four skeletons and an urn now on exhibition in the Barbican Museum at Lewes were discovered; the long barrow is now a scheduled ancient monument. It is said that a cricketing world record score of sixty-seven runs off a single ball was established at Beacon Hill when the ball ran down the hill and was then overthrown down the opposite slope! The cricket ground is now north of Bazehill Road, but the headquarters remain at the Plough Inn.
Beacon Hill and much of the cliff top to Roedean , an area of 219 acres, was acquired by the corporation in August 1929. The eighteen-hole miniature golf-course adjacent to the windmill was opened in April 1938.
Any numerical cross-references in the text above refer to resources in the Sources and Bibliography section of the Encyclopaedia of Brighton by Tim Carder.