Established originally in 1860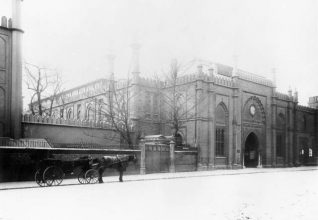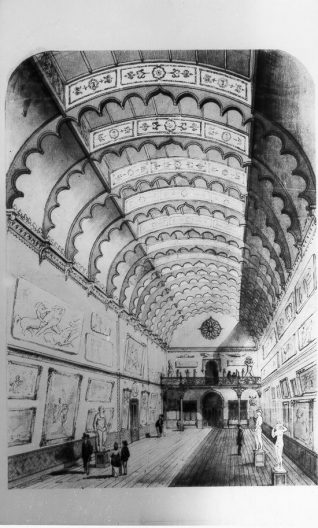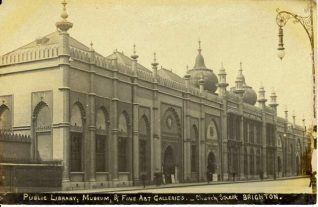 Please note that this text is an extract from a reference work written in 1990.  As a result, some of the content may not reflect recent research, changes and events.

a) HISTORY: Using the proceeds from several exhibitions which were held at the Royal Pavilion in the 1850s, a municipal art collection was established in some of the first-floor rooms of the Pavilion in about 1860; in 1862 the display was joined by various museum collections that had been presented to the corporation. In 1869 the museum collection was augmented by that of the Royal Scientific and Literary Institution which also left the town a collection of books to enable a reference library to be established at the Pavilion.
The space available in the Royal Pavilion soon proved inadequate, and so borough surveyor Philip Lockwood remodelled the former servants' quarters, coach houses and stables connected with the Dome in Church Street as a new art gallery, library and museum, fitted out in Moorish style. The new art gallery opened on 20 January 1873 in the large central hall, into which the entrance led directly, and the new museum was opened on 12 September 1873 at the same time as the library by Dr Carpenter of the British Association; rooms were devoted to archaeology, botany, geology and zoology. Several important private collections were added during the next few years, and rooms were kept in the Royal Pavilion as an annexe. The exhibition galleries were enlarged in 1894, and further alterations were made in 1901 when the refurbishment of the Town Hall had been completed, thereby releasing rooms previously used for other purposes. On 5 November 1902 the Victoria Public Library opened in its present position, allowing the museum and art gallery to expand to their present size; a new entrance hall was also made, and the fascade was altered somewhat with the addition of oriental ornamentation. The museum, art gallery and library buildings are now listed as being of special architectural interest.
Any numerical cross-references in the text above refer to resources in the Sources and Bibliography section of the Encyclopaedia of Brighton by Tim Carder.