One of the richest collections in the country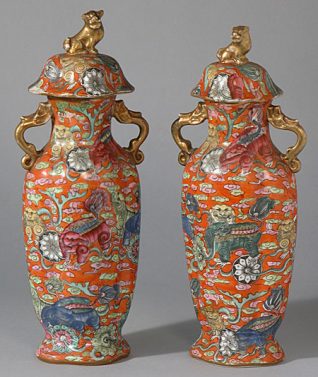 Reproduced courtesy of Royal Pavilion, & Museums, Brighton & Hove
Please note that this text is an extract from a reference work written in 1990.  As a result, some of the content may not reflect recent research, changes and events.
b) MUSEUM EXHIBITS: Brighton Museum has one of the richest collections in the country, but due to a chronic lack of space many pieces are kept stored away from public gaze. It is particularly strong in ceramics, and includes the important Willett collection of 1,715 pieces of decorated porcelain and pottery which was first loaned in the 1880s and then presented in 1901 to celebrate the remodelling of the building.
There is a large collection of costume and fashion, the Spencer collection of musical instruments, and the Alldridge and Lucas collections of ethnographica. A well-presented gallery of Brighton's heritage from the mid eighteenth century contains many important and interesting exhibits, and some excellent models, but this collection will be rehoused in the new Museum of Brighton at the former Holy Trinity Church in Ship Street.
Perhaps the greatest treasure is the unique 'Hove Cup' displayed in the excellent archaeological galleries. One of the most important Bronze Age artifacts in the country, it is a drinking cup of circa 1240 B.C. made from a solid block of amber, and was found in 1857 at a barrow in the garden of 13 Palmeira Avenue. There is also a Bronze Age hoard of metal 'loops' from Black Rock, and a second-century copper-alloy figurine of a stag, found in 1985.
The museum is not strong on furniture as many pieces are housed in the Royal Pavilion and Preston Manor, while the natural history collection has been removed to Booth's Museum in Dyke Road. Brighton also owns the National Toy Museum collection, part of which is housed at The Grange in Rottingdean, but it is hoped to house it in the adjacent North Gate House in Church Street. Unfortunately, Brighton Museum can only expand further if and when another site is found for the public library.
Any numerical cross-references in the text above refer to resources in the Sources and Bibliography section of the Encyclopaedia of Brighton by Tim Carder.