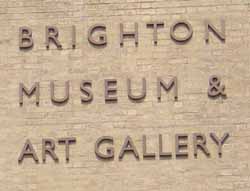 Photo taken by Zoë Woods, May 2004.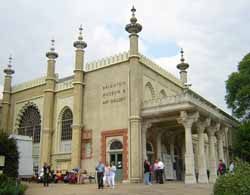 Photos taken by Zoë Woods, May 2004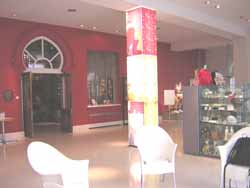 Photos taken by Zoë Woods, May 2004. Internal photo taken with permission of Brighton Museum and Art Gallery

Photo taken by Zoë Woods, May 2004.
A museum  for the new century
We set out to try and make it a museum that would be fit for the new century. It's a beautiful 19th Century listed building but that can actually be quite intimidating and difficult for people to come in. Before the redevelopment you used to enter in a corridor from Church Street. It was very dark and gloomy and you fought your way through two heavy mahogany doors to get in.
We felt that turning the museum round so it faced the Royal Pavilion and the gardens, and our new entrance hall with a big porte-cochere makes it feel modern and more welcoming. It was desperately in need of some major infrastructural work. Updating basic public facilities, making sure we had a decent entrance area, reception desk, café, toilets and disable access, in terms of physical and sound impairments.
We've very much tried to make sure that you can go into almost all of the galleries and at one level you can just enjoy beautiful things. You might read the label, you might read a short text panel, you might look at an additional folder, a multimedia touch screen computer, or something that gives you lots more information. You might also want to go further than that, so part of the logic of our new History Centre was that also becomes a point which you can go to if you want to find out more about the collections.
We've been able to update the way we've interpreted the galleries to make it more modern and accessible to people in different ways to try and make people think about objects from different collections, time periods and cultures.
A bit quirky
Part of the thinking was 'What is it that makes Brighton different?' Brighton's a bit quirky; it does things slightly differently and oddly and we try to take that on board. If you go into our fashion gallery you walk round on a catwalk as if you were the model. The mannequins are actually on the same level as you and have been cut down so the costume is almost floating in the air and that's quite deliberate, different way of doing it.
There are two galleries that look at Brighton's history because Brighton is a tourist town but it also has a local population. 'Images of Brighton' is very much what the tourists expect to find and one which is called 'Exploring Brighton' is very much behind the scenes. It's a very funny place in one respect and I think that's part of the appeal of Brighton that we try to bring out in the museum in one respect, whether we've succeeded that's down to the people coming round the galleries really!"