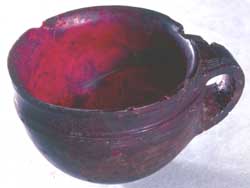 Photo of the 'Amber Cup' courtesy of Brighton Museum and Art Gallery.

Photo taken by Zoë Woods, May 2004.
One of the great perks about working in a museum is being able to touch objects that are hundreds or thousands of years old that have been made by somebody, used by somebody in a totally different culture, a totally different way and that have somehow survived. There's an excitement, a tingle down your spine when you get a chance to, and there are also some pieces that are so beautiful in themselves which just give one such pleasure every time you walk past them in a case or you're able to handle them in the collections. There are lots and lots of pieces that have been given over the years that are wonderfully exciting! Coming in as I did as Curator of Local History and Archaeology there are one or two pieces in that collection that I've always loved more than others should we say.
Amber cup
Almost one of the founding pieces of the museum collection was the 'Amber Cup' which is this wonderful Bronze Age cup made out of amber found in a barrow at Palmeira Square in the 19th century. When it was found there was no museum in the town and the land owner of the day set up a little group of trustees to look after it. The agreement was that as soon as the town had a museum they would donate this object, and sure enough that is exactly what happened. It was like one of the founding objects that arrived in the museum collections so I've always had a soft spot for that.
There is also a very beautiful 'Sussex Boar', little metal figure of a 'Sussex Boar'. Very small, very minute, very crude in the archaeology collections but it is the one piece that I have to say if it ever goes missing from the collections I will probably be the prime culprit because it is just lovely and it's beautiful!"