One of my favourite haunts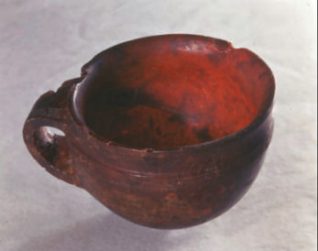 Royal Pavilion and Museums Image Store
Thrilled and fascinated
As a kid in the 1940s and 1950s, the museum and the library were haunts of mine. I spent hours and hours just looking around and being in awe of all the things on display. I would walk from my house in Bennett Road along Eastern Road, down Edward Street to Church Street for a day of enjoyment. Firstly I would check my books in at the library as I did not want to cart them all over the museum. I started at the ground floor and worked my way up. I was thrilled by the stagecoach and it's history, and fascinated by the skeleton of the killer whale hanging from the ceiling.
The famous 'Amber Cup'
Upstairs was a display of articles found at Whitehawk. I think I remember an amber cup and a rusty sword, a skeleton, and many other bits and pieces long forgotten in my memory. The paintings captured me for hours. The huge oil paintings going up the stairs were so realistic to me. I could never get my head around the idea that somebody had painted these beautiful pictures, so much talent, and dare I say it but as a kid I thought that the paintings were almost photographic they were so detailed.
Enjoyment without any money
There were so many things to look at, there was never enough time to take it all in at one go, but over the years I got to see lots of different enthralling things. After my visit to the museum I would go to the library and look for more books to replace the ones that I had taken in earlier. Then it was off home, but this time I would go via St. James's Street or along the seafront to home. Later on I would roller skate to the museum which got me there and back somewhat quicker. Then after I got my first bike that was even more luxury. It was just an enjoyable non complicated life where we had to make our own enjoyment without any money..