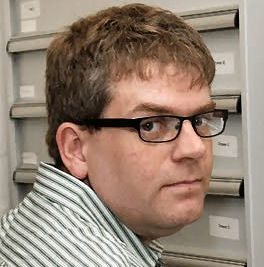 I am Curator of Photographs for the Royal Pavilion and Museums. I have held this post since 2007, but have been working with the photographic collection since I started working here in 2003.
7,000 digitised images
This is one of the biggest collections we hold. We have around 250,000 images, and my main task has been to make this collection more accessible. Prior to my working here, relatively few photographs had been catalogued. We now have 28,000 records of individual photographs, and over 7000 digitised.
Labour intensive work
I certainly can't take the credit for all this: much of it is down to the hard work of numerous volunteers who have helped over the years. But there is clearly a lot more to be done: digitisation is very labour-intensive work and it will take many, many years to have everything digitised.
Example of an interesting collection
For example, we have a digitised collection relating to the Stanford family who arrived at Preston Manor, Brighton in 1758, and remained there for over a hundred years. The articles are part of the Stanford bequest of Preston Manor and its contents to Brighton Corporation in 1932. Their collection of photographs and albumen tourist prints, chronicles four generations of the family and provides a fascinating insight into their lives and those of the servants who worked at Preston Manor.
Special exhibitions
Aside from looking after the collection, I've worked on several exhibitions. I curated War Stories at Hove Museum, a 2009 show which looked at how the local press depicted the Home Front of Brighton and Hove during the Second World War. With my colleague David Beevers, Keeper of the Royal Pavilion, I co-curated the permanent Indian Hospital display in the Pavilion, which opened in March 2010. Although a modest display, it's been a great success: it has received attention throughout the world, and attracted many more visitors to the Pavilion. But it's been most gratifying to simply help tell this extraordinary and unique local story to a wider audience.
A window on the past
I would struggle to identify a single favourite photograph in the collections; fortunately, I don't have to! I have recently started an 'Image of the Month' blog, which is an opportunity to talk about some of the more interesting and unusual photographs we hold. The photographs that fascinate me the most are those that have hidden stories to tell. Photographs are rarely a simple window on the past; they are a means of communication, and every photograph is trying to tell you something. It may be an overlooked architectural detail, or a person peering in from the margins of the frame. Sometimes, a photograph captures and reveals far more than the photographer ever intended.
Problems with copyright
The worst aspect of my job is dealing with copyright. I have received a lot of training in the subject, regularly read up on it, and even deliver basic training of my own. But the more I know about copyright, the more aware I've become of the ambiguities and uncertainties that surround the subject. It's an odd one: digital technology makes copyright appear almost obsolete, yet it still underpins the digital economy. We're essentially using a 300 year old legal concept to control 21st century technology. It's not surprising that causes problems, but I don't honestly know what the alternative would be.