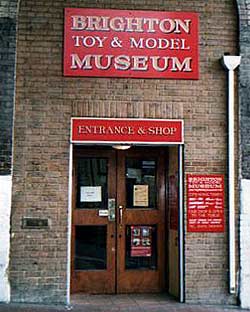 Photograph by Zoe Bradford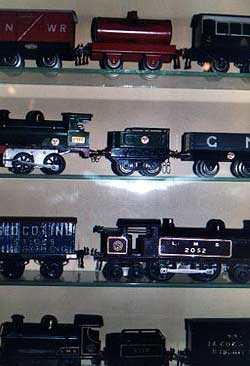 Photograph by Zoe Bradford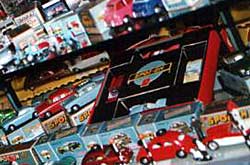 Photograph by Zoe Bradford
'It's like the inside of an old fashioned train carriage.'
As I stepped through the door in the archway at the top of Trafalgar Street, the chocolate and cream paintwork reminded me of the inside of an old fashioned train carriage, even though I've never been in one. The faint pre-war big band music that followed me around the exhibits, made me think of smartly dressed children of the past playing with some of the toys I could see, and of soldiers being waved off on steam trains by loved ones. The corrugated ceilings above the bright white brick arches looked like the those over Brighton station itself. All in all, there isn't a better location in Brighton for the Toy and Model Museum…
Formerly used as a cab way, wine cellars, stables and army offices.
The Museum, run as a charity, was founded in 1990 within the arches, which were built over 100 years earlier to support the forecourt of Brighton Station. Throughout the century, the archways have had some interesting uses. One archway was the entrance to the old Cab Road, that took horse drawn cabs through a tunnel up to the platform level of the station above. The arches have also been used as wine cellars, stables and army offices during WW2. They are even reputed to be haunted by a young man who, unlucky in love, threw himself into the silo of the brewery that was then on the site.
Flooding in 1998.
The Museum's special atmosphere owes a lot to its Victorian setting and its childhood theme that spans 100 years. However it was the clash of the old with the new that threatened the museum's future during the 1990's. In 1998, Railtrack began renovations at Brighton station. As work progressed, the Victorian drainage system began to fail, causing flooding in the museum. Eventually the museum was force to close its doors to the public. It finally reopened after repairs and refits 2 years later in 2002.
Cabinets full of teddy bears and dolls.
The exhibits include model railways set into townscapes and countryside that will move at the push of a button. There are cabinets full of teddy bears and dolls that stare back at you, and brightly coloured model toys and trains. There are compelling scenes from the Napoleonic wars, staged by immaculate toy soldiers. A beautiful little theatre, softly lit is surrounded by puppets from different times and places.
The Toy Museum also offers a kids club, a comprehensive education programme for school parties, a restoration service and the opportunity to hold a wedding reception or birthday party! There is a well stocked souvenir shop and for the serious enthusiast, some collectors' models on sale.
The Museum is kept ticking over by a group of volunteers, who help with restoration, exhibitions and at the cash till. New volunteers are very welcome, so that the Brighton Toy and Model Museum can continue to be run with the love, care and gentle enthusiasm that helps to make it so fascinating – and so British!
Visit the Brighton Toy and Model Museum website