People thought I was barmy!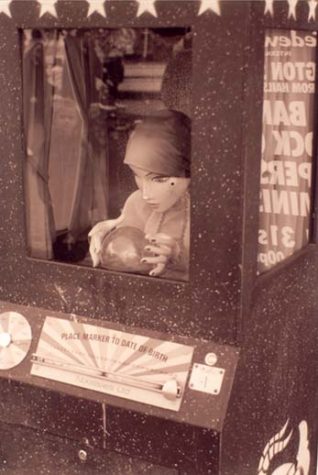 Photograph by Anne Fortis
"I came down to Brighton for the weekend to see my cousin who lived in Kemptown, and took my camera, and went down the seafront. Usually the best way for me to take photos is just to go and explore with a fresh mind like a blank canvas.
Old fashioned Mystic Meg
I found the penny arcade museum, and saw this machine. It looked like an old-fashioned Mystic Meg; a big kitsch, a bit over the top and funfair-ish.  I was  so fascinated by it I took a whole role of film – people thought I was barmy! When you put your money in you get a card.  You put in your date of birth and you get a funny message.
The Penny Arcade Museum
The Penny Arcade Museum is on the seafront as you go past the arches, along from the artists' galleries. I took the photo over three years ago, and I'm not sure if the machine is still there.  I included the photo in my Final Photography Project, for my BTEC National Diploma in Design (Photography) course."