A central home for community groups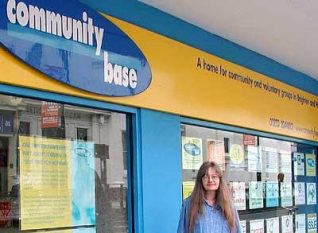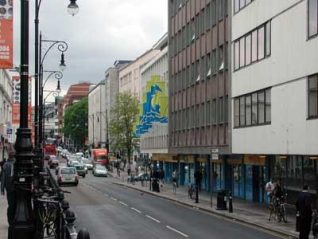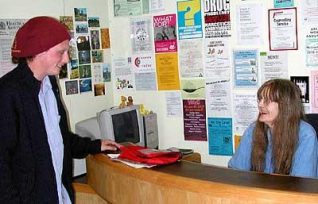 In a recent survey men and women were asked about their ideal employment, and what emerged as top job was Charity Worker. This result probably wouldn't surprise anyone in Brighton and Hove, which has more than its fair share of people working for charities and community groups. What you might not know is that the City is also home to a unique project which offers affordable office space to 30 of these organisations.
Introducing Community Base
The building is called Community Base, and as you walk through Brighthelm Gardens it is the tall concrete block on your right. You get a better view as you cross Queens Road to continue up Church Road, look North and you will see the front of Community Base with its distinctive blue and yellow banners.
History of the building
Originally the building belonged to Eagle Star Insurance, providing open plan commercial office space. It then lay empty for a couple of years, but remained free of crime and squatters because the Police took a special interest. The West facing roof terrace was used by them as an observation point to keep a watch on comings and goings at Brighton station.
Central home for community groups
By 1993 talks had begun about creating a central home for the town's community groups, some of whom were battling to exist in overcrowded and unsuitable accommodation. In 1997 a unique scheme came into being.  Community Base is a charity in its own right which owns and runs the building in Queens Road. Original funding came from the SRB – regeneration money from Central Government to improve and develop inner cities – and some charitable funding. But over £1 million was raised through a commercial mortgage taken out by Community Base. This is one of the features that makes Community Base unique, income from rents are used to pay running costs and the mortgage, making Community Base a self sufficient entity.
Shared facilities
Centrally situated between the city centre and Brighton station, Community Base covers 30,000 sq. ft spread over seven floors, it has been divided up into individual and self sufficient offices, some with only a single employee. Groups share facilities such as reception, photocopying and post franking, telephone system and internet access, recycling and rubbish disposal. Not surprisingly every office is let and there is a waiting list of groups keen to move in.
Introducing some key staff
The Director is Colin Chalmers, but visitors are most likely to meet receptionist Sue Cole who is very skilled at dealing with all comers and is voted every year by Community Base people as the buildings greatest asset. Annette Moss is the Buildings Manager, the person everyone turns to if the broadband internet connection fails or the toilets don't flush. For small organisations with just one or two staff members and a pressing work load it makes a big difference having these everyday things attended to. But being in Community Base also gives solitary workers the sense of being part of a working community.
A real cross section of groups
There is a real cross section of groups working out of Community Base, but all belong under the description of voluntary sector, charities and community groups, to qualify for office space they have to be a not for profit organisation. There are organisations who look after carers, promote internet use in the community, support different cultures and represent marginalised groups.
The bright and spacious South Wing
The top floor is called the South Wing, a bright and spacious meeting place with panoramic views over Brighton and the sea that can come as quite a surprise as you enter. This room available to rent by outside groups as it has its own entry door from the street and, like the whole of Community Base, good disability access.
Open days
Community Base holds open days when members of the public can find out more about what goes on in the Voluntary Sector of Brighton and Hove. Schools are invited to send pupils along to find out what the terms Charity and Voluntary can mean in practical terms. Thousands of people come in through the front door every year. Some are visiting groups within the building, but many are just seeking information to help them with a range of problems. Community Base publishes an extremely useful map of where to find help in the City. Not only does it list groups within the building, but also other important gateway support organisations.