Land of more than 2,546 acres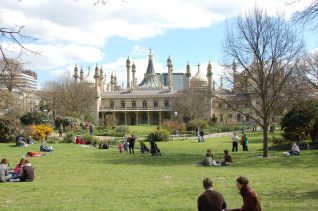 Please note that this text is an extract from a reference work written in 1990.  As a result, some of the content may not reflect recent research, changes and events.
Brighton Council's Parks and Recreation Department is responsible for about 2,546 acres of parks, gardens, playing fields, etc., which include approximately 144 acres of allotments, 63 tennis-courts, 16 bowling-greens, 25 cricket pitches, 2 municipal golf-courses, a pitch-and-putt course, 60 football, rugby and hockey pitches, and 32 children's playgrounds.
Several parks and gardens have been designated by the council as being of historic interest, and special care will be taken to preserve and restore their original layout and features; they are: the Kemp Town enclosures; Kipling Garden, Rottingdean; Park Crescent; Preston Manor grounds; Preston Park; Preston Rockery; Queen's Park; Royal Pavilion grounds; Stanmer Park; and the Victoria Gardens. Only the Royal Pavilion and Preston Manor grounds are on the English Heritage list, however, at grade II.
Any numerical cross-references in the text above refer to resources in the Sources and Bibliography section of the Encyclopaedia of Brighton by Tim Carder.