An introduction to the area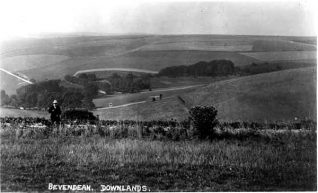 From the private collection of Sam Carroll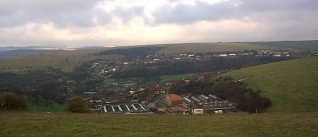 Sent to website 20/10/2002 by Sam Carroll, Bevendean resident
I am quite passionate about this area. It is always underestimated. The run-down shops and boarded-up pub are more immediately noticeable than the surrounding countryside and the incredible sunsets and sea views.
Bevendean is a small estate situated between Woodingdean, the Racecourse and Moulsecoomb. It is divided in name between the area on the hill closer to Moulescoomb (Upper Bevendean) and the area that is only reached by road via 'The Avenue'; a cluster of houses in the valley that is surrounded by fields (Lower Bevendean).
Beautiful and accessible
Bevendean is a post-war council estate and private development as can be identified by the style of houses. Many of the original inhabitants are still resident. A large proportion of the council houses are now privately owned, often by their original tenants or their families.
The countryside that surrounds the estate is beautiful and accessible. The two riding stables and the Bevendean Farm on one side of the valley provide idyllic images of grazing animals and on the other side the untamed terrain of Hogtrough Bottom and its varied wildlife creates a haven for berry-pickers, dog walkers and birdwatchers alike.
Spectacular views
From the top of the hill overlooking Bevendean there are spectacular views of Brighton with the sea in the background and on a clear day it is possible to see the Isle of Wight in the distance. It is on the very edge of the City and benefits from both easy access into the centre and also the feeling of rural solitude.