The secret to empty deckchairs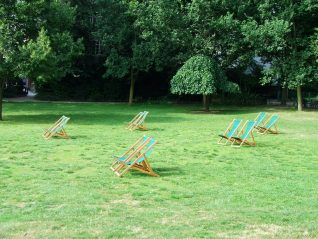 I've been doing some studying, photography, City and Guilds. It's very difficult trying to do something that's different. That's the problem, there are so many photographers around Brighton, you see so much visual art work around and all the usual cliche shots it's hard to try and pick something different. But I do tend to walk around with my camera most of the time when I'm out in the daytime so if I do see anything I just click away.
A photogrpahers secret revealed
Actually there is a good one I like of the Pavilion Gardens and just the deckchairs but nobody around. It's just strange seeing it with no-one round and it's a genuine photograph; it's not something that I have digitally enhanced or anything like that.  The secret to the photo is that the gentleman was actually putting the deckchairs out at the time so it was fairly early in the morning; not that early because I wouldn't have got up that early, but it was probably about half nine ten o'clock but there weren't that many people moving in to take a seat yet. It just seemed strange … really unusual. Like that one, yeah.
Terry Nye interviewed by Zoë Woods 18th April 2006