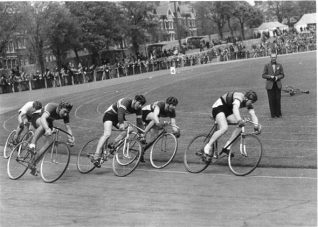 From the private collection of Mick Deacon
Learning about bikes
When I was about 12, I had a beaten up old racing bike. I used to hang out at a cycle shop, just off Trafalgar Street, one street up from my secondary school, Fawcett. I got to know other, older boys, of whom quite a number were racers. I also got to learn a great deal about bikes. One boy had the greatest bike I had ever seen. It had all the best features, Campagnolo gears and chainset, a customised Brook's saddle and so on. One day, he asked me if I would like his bike for myself.
A memorable moment
I told him that although I wanted it, I had no way to pay for it. But he replied that he was giving up cycling and would like me to have it. That was one of the most memorable moments in my life up to then. He gave me the bike, with all its fittings. I think it was probably the greatest demonstration of real generosity that I have ever known. The bike, even then, was worth hundreds of pounds.  Imagine, as a 12 year old, suddenly being given a top-of-range, racing bike! Having acquired such I beautiful bike, I joined a cycling club called the Brighton and Hove Wheelers. Its meeting place was at an old building near Carlton Hill; it was a bit like an old 'youth club' with the usual table tennis, darts and so on. Later, I joined a very professional club, called Brighton Premier (later Brighton Velo), mostly because I liked their yellow jerseys but also because they specialised in cycle racing.
Do you remember your first cycle? Please share your memories with us by posting a comment below
Racing in Preston Park
I started doing time trials, in the early mornings, outside of Brighton. Then I took up, first riding on and then racing on, the Preston Park Cycle Track. Nowadays it is called the Velodrome. I often used to go there just to ride my bike as fast as I could. Junior racers did not ride the fixed wheel bikes, with no brakes, that were used by older riders, so my, very fancy, bike was ideal on the track. Cycling in Brighton was wonderful There were few cars and there was thus no need to ride on the pavement. Later, I became a Mod and somehow bought a Vespa scooter. Once I was on the scooter, the bike had to go! I like to think that I passed it on to someone else, without charging them a penny. Whether I did or not, I cannot remember.