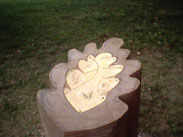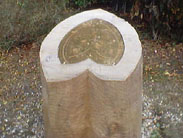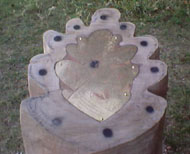 I often walk through Preston Park with my dog, Molly. The other day I came across these carved tree trunks on either side of the children's play area. One is in the shape of an oakleaf and the other, I'm not sure – a beech seed? The beautifully illustrated brass plaques say that they are in celebration of the life of Chris Clay by his family, friends, council and BRICEP colleagues.
The oak leaf
The oakleaf shape says that the surrounding area has been planted with trees from various parts of the world. There are illustrations of them: English elm, holly, beech, hawthorn and rowan and there is this inscription:
I am the sunlight on ripened grain
I am the gentle autumn rain
Do not stand at my grave and cry
I am not there. I did not die.
The heart
The other, the 'heart' shape, is illustrated with flowers which would have been grown in the original ancient hedge and which have been planted under the nearby hedge – dog violet, lesser celandine, oxeye daisy, bluebell, meadow cranesbill and common knapweed. It has this inscription:
Do not stand at my grave and weep
I am not there, I do not sleep
I am a thousand winds that blow
I am the diamond glints on snow
A sign of the times?
A couple of days later, Molly and I were again in Preston Park. As I strolled along the path between the bowling greens and the derelict basketball courts, a popular location for graffiti, I noticed a black mark in the middle of the brass plaque. I stopped to take a closer look, wondering if someone had stubbed out a cigarette on it. The memorial had been sprayed."