Opened to the public in 1892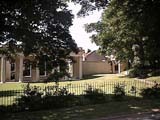 During the 70 years or so before the Park opened to the public in 1892, it had been a pleasure ground in private hands. Various developers had planned to surround it with detached villas but only a couple of these were built. At various times during that period the park boasted an archery field, a skating rink and a Spa.
The Royal Spa
The Royal German Spa was opened in 1825 and aimed, by concocting copies of various continental waters, to make up for Brighton's lack of a natural spring. It later became a mineral water factory but fell into disuse. In the 1970s a developer proposed turning the site into a casino but local opposition prevailed and a nursery school was built instead.
The Clock Tower: This was opened in 1915.
The Drinking Fountain: This was dedicated in 1893, shortly after the opening of the park for public use.