The Archways, built c1830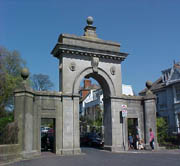 The two archways, one at the head of Egremont Place and the other at Park Street, are another remnant of Thomas Attree's original scheme to develop an exclusive estate of villas around Queen's Park. Attree commissioned Sir Charles Barry to design these two formal entrances and it appears they were built at the same time as Attree's villa around 1830.
Rebuilt c1890
In 1890, after the Park was opened to the public, both archways were rebuilt. The names of the Race Stand Trustees, who donated the park to the people of Brighton, were added. The inscription on both arches reads:
'The Gift of the trustees of the Brighton Race Stand, Alderman Abbey, Alderman John L Brigden J.P., Alderman Ridley J.P. and Will Seymour Burrows Esquire, to the inhabitants of Brighton MDCCCXC.'
A time capsule
The Park Street Arch was restored in 1994 and a time capsule containing coins, documents and poems were included.  The Egremont Place Arch was restored in 1997.  This time the plasterer Neil England left his mark on the Egremont Place Arch by including his personal signature in the stonework – a stone rat!