You could hear the school bell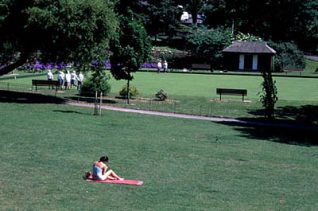 "My favourite place was always Queens Park. When I was a child I used to have to cut through it to go to school. You'd always go there early and meet all your friends before school and play in the play park and then you'd hear the school bell. Everyone would run down. I probably spent from primary school age up until my late teens mucking around in the park.
I was born in Brighton and grew up in Hanover, which is connected to the park really because it's where I was taken as a child. Up until I left home I always lived in that area and I went to Queens Park school. It was the focus of my growing up. I've never really got out of Brighton so it has stayed like that.
I have mixed feelings about the park though now. I have experienced it late at night, where it becomes a more frightening place, and also getting attacked by seagulls, walking through there. So sometimes I'm scared when I'm in the park, because of the seagulls. So my experience is quite different now."