History of Attree's Villa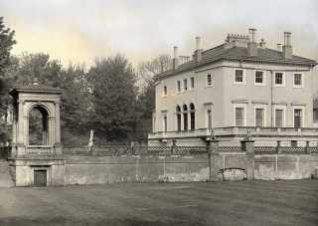 From a private collection
Having bought the parkland sometime between 1825 and 1830, Thomas Attree no doubt wished to use it as a setting for his own grand house. He commissioned Sir Charles Barry, who went on to become architect of the Houses of Parliament, to design it for him. This was intended to be the first of a series of similar houses encircling Queen's Park, but only one other, Cowell's Villa, was ever built. On June 30 1831 the Brighton Gazette mentions: 'Mr.W.S.Cowell and Mr.T.Attree have built two villas in the park, which add considerably to the beauty of the scene and will no doubt be speedily followed by the erection of many others.'
The mystery of the missing villa
There is still some mystery as to what happened to Cowell's villa. There is a plaque outside Queen's Park villa, or Pennant Lodge as it was known until 1983, stating that it was built in 1851. It seems unlikely to me that a villa less than twenty years old would be knocked down and a new one built on the same plot. Also a Lady Emma Pennent was residing in Queen's Park in 1845 and not at Attree's villa. There would appear then to have been more than one villa throughout the 1840s. The most likely explanation seems that Cowell's villa was rebuilt and became known as Pennant Lodge. As yet I have found no records to prove this though.
Restoration refused
Attree's Villa was designed in the style of an Italianate villa set in a terraced garden with a little gazebo.
After Attree's death it was purchased by George Duddell and occupied by him until his death in 1888. It then remained empty until it opened in 1909 as Xaverian College, a college for Catholic boys. The college closed in 1966 and the villa became derelict and was repeatedly vandalized. The villa was full of dry rot with wet rot fungus on all the floors and the cost of restoration was put by the Department of the Environment at between £130,000 and £150,000.  Despite a huge public protest and the fact that the Historic Buildings Council classed the villa as an 'outstanding' Grade 2 listed building, the villa was demolished by the Council in 1972 because of the cost.
All that remains now is the villa's garden gazebo, which used to have a marble statue of the Emperor Aurelius in it, and the Pepper Pot tower, which has become a local landmark.